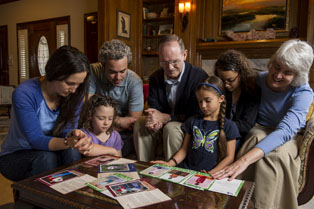 Building God's Kingdom through a Legacy of Love
Legacy
: Something given by or received from an ancestor or predecessor; inheritance
Partner
: One who is united or associated with another or others in an activity or a sphere of common interest
Gospel for Asia Legacy Partners
: A group of recognized and honored partners in ministry who have given or plan to give part of their inheritance to help bring the love of Christ to needy people in Asia through GFA. Legacy Partners enable God's love to continue to be demonstrated in word and deed to those who don't know Him for generations to come.
When you notify us that you have included Gospel for Asia in your estate plans through a will or trust bequest; life insurance policy, retirement plan, investment or bank account beneficiary designation; charitable gift annuity; charitable remainder trust or other legacy gift, we invite you to become a member of GFA's Legacy Partners.
There are no dues or obligations; we simply want to honor, bless and remember you as you have remembered the poor in Asia.
As a Legacy Partner:
You will receive periodic expressions of our appreciation, including a photo book showing the impact your legacy gift(s) will make in the lives of precious people in Asia.
With your permission, your name, story and/or photo will be permanently displayed in a Book of Remembrance in our U.S. headquarters lobby.
Become a Legacy Partner
To learn more about how you can build God's Kingdom through a legacy of love, review these web pages for details about planned giving tools and options and
contact us.
If you have already included Gospel for Asia in your estate plan, please let us know
here
.